One of the common skin complications due to aging is ptosis or sagging of the soft tissue of the face and body. There are two common methods to solve this problem: one is a thread lift and the other is a surgical lift. Thread lift is suitable for that group of people who, for some reason, do not want to perform surgery in the classic style. This method is used to reduce facial and body wrinkles, significantly reduce laugh lines and marionettes, reduce jaw sagging, lift eyebrows and neck, and even today it is used in cosmetic Gynecology.
In this webinar Dr. De Felipe, Dr. Fogli and Dr. Akef will discuss about this lifting method which is called Thread lift.
topics covered in this webinar:
Dr. Fogli:
Why polilactic and policaprolactonic acid threads with hyaluronic acid in non surgical face rejuvenation?
Dr. Inigo:
Materials that make Threads. Are they relevant?
Join us live on Thursday, Aug 25, 2022, at 5:00 PM (Toronto time) to participate in this webinar. At the end of this virtual session, you are welcome to ask your questions.
Dr. Anna Fogli
Dr. Anna Fogli​ received her double degree in Pharmaceutical Chemistry and Technologies from the Università degli studi di Torino – Faculty of Pharmacy and in Medicine and Surgery. She completed a 2-year Master in Aesthetic Medicine and Well-being from the IAF Institute in Roma, Italy.
PROFESSIONAL EXPERIENCE: 
Clinical hospital Pharmacist, Azienda Ospedaliera S.Giovanni Battista di Torino.
Observership in the Reproductive Medicine Department, Assisted Conception Unit, in the King's College Hospital
Fellowship in the Endocrinology, Dietology and Metabolic Diseases S.C. Mauriziano Umberto I Hospital,  Torino
Aesthetic Doctor and Clinical Monitor and Instructor for Rigenera  HBW Centre for Regenerative Medicine Graziano D'Aquino, Corso Gallileo Ferraris 63, Torino
Aesthetic Doctor for Pico  Global LTD, specialized on Asian Beauty.
Member of Associazione Italiana Di Ginecologia Estetica e Funzionale (AIGEF, Italian association of aesthetic and functional gynecology).
PROFESSIONAL MEMBERSHIPS:
IMCAS Annual world congress 2019, VI EURASIAN CONGRESS OF DERMATOLOGY, COSMETOLOGY AND AESTHETIC MEDICINE, Astana Kazakhstan speaker
Speaker at Forthcoming congres: IMCAS AMERICAS 2019, Cartagena
Dr. Inigo de Felipe
Iñigo de Felipe y Gárate was born in Guipuzcoa, Spain, in an intellectual family. From
childhood, he wanted to become a doctor through his great passion was the piano, with
which he gave several concerts. He went to medical school at the University of Navarra
in where he was a student representative for several years. In 1992 he finished his studies and
completed his training at Harvard University in Boston and the Karolinska Institute in
Stockholm. He then took his residency in Dermatology and Venereology under the
direction of Professor Quintanilla in the Pamplona's Clinic University of Navarra, considered
to be the leading hospital in Spain. There he soon started working with lasers and other
technologies for treating skin diseases. He did his PhD in Radiofrequency and skin
tightening and discovered the effects of this technology on fat tissue.
Dr. de Felipe has always given priority to offering solutions to solving skin problems and
skin ageing. With this objective, he has been clinical manager of several companies and
clinics related to medicine. Since the year 2004 he is the medical director of Hedonai
Centros médico estéticos, today more than 40 in Spain and Portugal, thanks to its
excellence and scientific rigour in treating patients. At the beginning of 2007, he opened
his own clinic in the heart of Barcelona, his usual residence, where the most advanced
techniques are offered with a cherished and patient-oriented medicine.
In 2022 Dr. Felipe became a professor at the International University of La Rioja for
Rejuvenation and regenerative medicine in the Masters for Aesthetic Medicine.
Iñigo de Felipe has become a very common participant in many national and international
meetings in the dermatology and esthetic medicine field as well a regular participant in
media programs on TV and magazines such as Antena 3, Intereconomía, Mujer hoy, Telva
Belleza, Hola in Spain or Lux in Portugal. He has given more than a hundred lectures and
workshops in most countries in Europe, America and the Middle East, where he trains
hundreds of doctors on the use of Fillers and Lasers.
Today he has Clinics in Barcelona, Madrid and London and is registered as a Board
Dermatologists in the United Kingdom and Spain.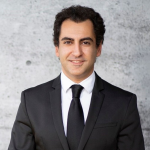 Dr. Reza Akef
Dr. Akef is the Chairman of CBAM. With over 10 years experience in teaching and practicing the cosmetic medicine, has developed the CBAM to share his knowledge with other health care professionals to provide the best care for their patients.
With over a decade of recognized aesthetic practice, he is a leading cosmetic physician as well as an internationally recognized specialist in non-surgical cosmetic procedures. He is board certified by the College of Family Physicians of Canada in both Family and Emergency Medicine. Additionally, he is deeply involved in interventional pain practice co-operation for the treatment of Migraines, chronic pain, TMJ, Myofascial pain, and Fibromyalgia.
Dr. Akef is dedicated to understanding his clients' concerns and creating personalized treatment plans to realize his clients' needs and goals. Exceptional outcomes and patient satisfaction are the drivers of Dr. Reza Akef's work, and he is committed to thoughtfully and strategically creating individualized combinations of leading, safe treatments that exceed client expectations.
Dr. Reza Akef is also the founder of Angel Gloss spa in Toronto, an established, leading destination for non-surgical cosmetic procedures for individuals seeking leading physicians with proven experience, the latest technology, and cutting-edge techniques.