Description
Lip filler injection is one of the most demanded injections among aesthetics injections. The presence of multiple techniques will sometimes confuse you to choose the right one. If the doctors in learn all kinds of filler injection techniques for the lips such as Russian lip, classic lip, etc., they can easily guide their patients in this regard and get the best result for them.
Topics covered in this webinar:
Dr. Reza Akef: Updates on Lip Injection
Dr. Matteo Vigo: Lip Filler Correct
Join us live on Sunday, Sep 11, 2022, at 12:00 pm (EST) to participate in this webinar. At the end of this virtual session, you are welcome to ask your questions.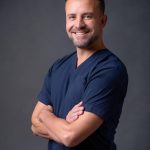 Dr. Matteo Vigo
Dr. Matteo Vigo graduated in Milan in 2004 and started his residency period in Ospedale Maggior Borgo Trento in Verona, Plastic Surgery and Burn Unit in 2005. During the years he worked in the Breast Unit Centre in Verona, he developed his skills in breast reconstructive and aesthetic surgery, together with the full spectrum of plastic surgery procedure. His Specialty degree was achieved with a work on "Total Breast reconstruction with Fat in the patient with breast implants", with the vocation for 70/70 cum laude in 2009. Shortly after receiving his specialty degree he started working in the Aesthetic Surgery field, developing great experience especially in breast surgery, but also liposuction, face and body contouring techniques.
Dr. Vigo has been the main trainer for all Europe and the Middle East for Celution and Pure Graft systems by Cytori, lecturing in different important congresses around the world. In  2012 he started working in Dubai as a Chief of Surgery and Chief Medical Officer at American Academy of Cosmetic Surgery Hospital, until March 2017. He has recently increased his interest in the field of regenerative medicine with the use of stem cells.
His scope of work now it well built around the whole spectrum of breast procedures, where he applies latest technology and techniques combined with his past experience learning from he top surgeons in the field.
His motto is "…because you deserve the best" and this is his approach to the patient's care where he fully dedicate himself and his team to serve and assist the patient in his/her journey inside the plastic surgery. His dedication, his attention to details, his kind manners and availability to answer all the patient's questions, the consistent training to his team are aimed to let the patient feel a friendly environment without any pressure or discomfort.
Dr. Vigo knows that the decision to have a surgical procedure done is complex and full of steps, and he is willing to explain every single detail in order to let the patient understand and face the surgery with peace of mind.
Qualifications:
Specialization in Plastic and Reconstructive Surgery – University of Verona (Italy)
Fellowship in Plastic and Reconstructive Surgery- Department of Plastic Surgery and burns
Centre – Ospedale Maggior Borgo Trento – Verona
Degree in Medicine and Surgery – University Vita-Salute san Raffele Milano (Italy)
Languages:
English, Italian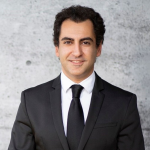 Dr. Reza Akef
Dr. Akef is the Chairman of CBAM. With over 10 years experience in teaching and practicing the cosmetic medicine, has developed the CBAM to share his knowledge with other health care professionals to provide the best care for their patients.
With over a decade of recognized aesthetic practice, he is a leading cosmetic physician as well as an internationally recognized specialist in non-surgical cosmetic procedures. He is board certified by the College of Family Physicians of Canada in both Family and Emergency Medicine. Additionally, he is deeply involved in interventional pain practice co-operation for the treatment of Migraines, chronic pain, TMJ, Myofascial pain, and Fibromyalgia.
Dr. Akef is dedicated to understanding his clients' concerns and creating personalized treatment plans to realize his clients' needs and goals. Exceptional outcomes and patient satisfaction are the drivers of Dr. Reza Akef's work, and he is committed to thoughtfully and strategically creating individualized combinations of leading, safe treatments that exceed client expectations.
Dr. Reza Akef is also the founder of Angel Gloss spa in Toronto, an established, leading destination for non-surgical cosmetic procedures for individuals seeking leading physicians with proven experience, the latest technology, and cutting-edge techniques.
Dr. Mohsen talani
Mohsen Talani, MD (Iran)
MD, Anatomist
Canada
Mohsen Talani is the Director of CBAM. He has over 13 years of experience teaching anatomy in Canada and internationally to students and health care practitioners in different fields of medicine such as physicians, dentists, nurses, chiropractors and physiotherapists.
Graduating from medical school at a young age, he became a medical doctor in his home country, Iran, and practiced in the field of emergency medicine. While pursuing his Masters thesis in neuroscience in McGill University, he discovered his passion for teaching. Since then, he has been working in the field of medical science education, with a focus on anatomy.
He strongly believes that with the rapid growing aesthetic industry, all practitioners should have a profound knowledge of skin basics, fat compartments, muscles, blood vessels and nerves, in order to provide safe and effective care to clients and prevent or minimize post-treatment complications linked to lack of anatomy knowledge.
He is currently training health care practitioners who seek to have a deep knowledge in anatomy. He incorporates fun, innovative and easy-to-understand methods of teaching in all of his classes, guest lectures and presentations. Additionally he supervises the cadaver lab dissections and hands-on practical.