Program Overview
CBAM Lip Beauty Masterclass is designed for students who have already learned the basic lip injections and they want to get more confident in lip treatments. This course makes the students familiar with the common lip injection techniques as well as giving them a vision what the best technique is to select for each individual face. We believe the injector is not able to apply one specific technique for all different types of lips. Therefore, we have designed this course to provide a comprehensive approach in treating variety of patients.
This course is delivered as a full day theory and hands-on session including a short review of didactics, practice on dummy lips as well as hands-on practice on live models. The students also learn how to dissolve the previous unwanted treatments in the lip region.
Lip Injection Techniques With:
Lip Assessment and Planning
Right Injection Technique
Lip assessment compare to the full face
Lip techniques: Needle, Tenting technique , Russian lips and Cannula
Selection of the best lip injection technique
Selecting the best filler
Techniques with neurotoxin, filler and thread combination
Injection techniques - on dummy
Injection techniques - live paitnets
Lip injection complications
Managing difficult patients (body dysmorphia)
Certification of Completion
Instructors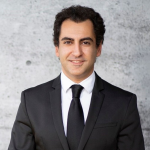 Dr. Reza Akef MD, CCFP-EM
Dr. Akef is the Chairman of CBAM. With over 14 years experience in teaching and practicing the cosmetic medicine, has developed the CBAM to share his knowledge with other health care professionals to provide the best care for their patients.
With over a decade of recognized aesthetic practice, he is a leading cosmetic physician as well as an internationally recognized specialist in non-surgical cosmetic procedures. He is board certified by the College of Family Physicians of Canada in both Family and Emergency Medicine. Additionally, he is deeply involved in interventional pain practice co-operation for the treatment of Migraines, chronic pain, TMJ, Myofascial pain, and Fibromyalgia.
Dr. Akef is dedicated to understanding his clients' concerns and creating personalized treatment plans to realize his clients' needs and goals. Exceptional outcomes and patient satisfaction are the drivers of Dr. Reza Akef's work, and he is committed to thoughtfully and strategically creating individualized combinations of leading, safe treatments that exceed client expectations.
Dr. Reza Akef is also the founder of Angel Gloss spa in Toronto, an established, leading destination for non-surgical cosmetic procedures for individuals seeking leading physicians with proven experience, the latest technology, and cutting-edge techniques.
Amira Gindi RPN (Canada)
Amira Gindi is an advanced cosmetic injector with over 20 years of experience in medical aesthetics. She is the founder of TTMSPA in Markham, Ontario and is recognized for her business acumen and expertise in all forms of skin care and injectables. Amira regularly attends advanced injectables and masterclass trainings, keeping up with the latest and most advanced techniques to enhance her skillset and share this knowledge with her students. Her passion for aesthetics is evident as she has helped thousands of individuals successfully achieve their aesthetic goals. Her keen attention for detail and her passion to see others succeed drives her to be the most comprehensive nurse injector in all aspects in non-surgical facial rejuvenation.
Honey Akef BScN, RN (Canada)
Haniyeh is a registered nurse and certified aesthetic nurse specialist. She started her career in the cosmetic industry as a physician assistant since 2013. She's currently working in the emergency department as well as working in a cosmetic practice as an advanced injector and instructor. Her passion and dedication has encouraged her pathway to the Canadian Board of Aesthetic Medicine.